2013 Cadillac CTS-V Reviews from Crest Cadillac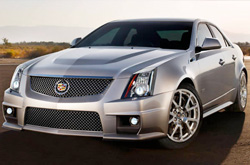 To begin reading Crest Cadillac's 2013 CTS-V review, scroll down below the video. All Cadillac dealers in Plano aren't the same. At Crest Cadillac, we feel it's our responsibility to provide customers with quality Cadillac reviews that set us apart from the typical dealer. Make intelligent decisions when it comes to your next auto purchase, don't take guesses! Each article is crammed with facts and vehicle features in way that's easy to understand. Does the CTS-V have what it takes to be your next vehicle? Continue reading and find out!
360 Degree Tour of the Cadillac CTS-V coupe, sedan, wagon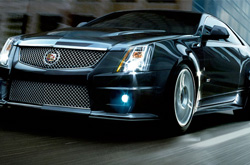 Not many luxury cars can take you from zero to sixty in just over four seconds, and virtually none can do it for under $65,000. That's unless you're talking about the new CTS-V, Cadillac's fastest sedan, ever. As the first four-door production car on street tires to ever break Germany's Nurburgring eight-minute lap barrier, the CTS-V is FAST. I really can't emphasize this enough, so let me put it this way: If you'd like your face melted off when you put the pedal to the metal, pick up a 2013 Cadillac CTS-V.
Beyond its incredible speed and mind-numbing acceleration, the Cadillac CTS-V is truly a "luxury" vehicle in every sense of the word. It's sleek and angular exterior design radiates a powerful, commanding presence, while its interior glows with confidence, class and style. Alcantara suede adorns the steering wheel and shifter, and optional heated/cooled Recaro performance seats with leather trim and microfiber suede inserts make any driving situation accommodating and comfortable. If the combination of speed and luxury trips your trigger, you just might want to test drive the world's fastest production sedan, the 2013 Cadillac CTS-V.
2013 CTS-V vs the Competition - Compare Features & Specs
Compare the 2013 Cadillac CTS-V against vehicles like the 2013 Dodge Charger, Jaguar XFR, BMW 5 Series and the Mercedes Benz E63 AMG, and you'll realize that the CTS-V trumps the competition in several areas. View our Quick List below to find out why!
2013 Cadillac CTS-V Seats: 5 passengers
2013 Cadillac CTS-V 0-60 MPH in 3.9 seconds
2013 Cadillac CTS-V MSRP: $63,215
2013 Cadillac CTS-V Cargo Space: 13.6 cubic feet
2013 Cadillac CTS-V Colors: White Diamond, Black Raven, Opulent Blue, etc...
2013 Cadillac CTS-V Body Style(s): coupe, sedan, wagon
2013 Cadillac CTS-V MPG: 14 city / 19 highway
Cadillac CTS-V Amenities Plano Drivers Will Love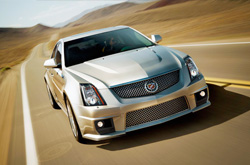 The CTS-V is available in sedan, coupe and wagon body styles to meet the needs of a wide variety of drivers. Each style is available in one fully loaded trim level and comes with a single engine option.
The great thing about the Cadillac CTS-V coupe, sedan and wagon is that you don't have to worry about not getting it all. Count on luxury features and tech, like: keyless entry and ignition, heated and powered front seats, dual-zone climate control, leatherette upholstery, a 10-speaker AM/FM/CD/DVD/SAT Bose audio system with surround sound and iPod/USB integration, a variety of performance technologies, 19-inch wheels, Bluetooth and much more. While options don't abound, there are a few. Drivers can opt to add a power sunroof or Recaro performance seats for the complete sports car package.
Find more information about the CTS-V's features in our Showroom
Engine Specs for Plano Cadillac CTS-V Buyers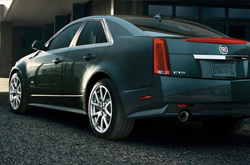 Cadillac has loaded the CTS-V with its most powerful engine, ever: a supercharged 6.2-liter V8 that packs 556 horsepower and 551 lb.-ft. of torque. Featuring an intercooled Eton Twin Vortices Series supercharger, this massively powerful engine is paired to a six-speed automatic transmission with steering wheel-mounted paddle shifters for quick and easy manual-style shifting, if the driver so chooses. Otherwise, it's just a matter of pushing down the gas pedal and watching the scenery fly by.
Peace of Mind Comes Built into the 2013 Cadillac CTS-V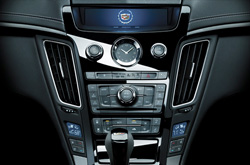 High-quality Cadillac safety comes first in the CTS-V, with standard features, like: front, side and dual-depth airbags, safety belt pretensioners, a rearview camera, rear parking assist, one year of OnStar, tire pressure monitoring and magnetic ride control. Like all Cadillacs, the CTS-V comes with a 4-year/50,000-mile no-deductible Bumper-to-Bumper Warranty, a 6-year/70,000-mile Powertrain Warranty, and a 6-year/70,000-mile Roadside Assistance and Courtesy Transportation Warranty - all for your satisfaction and peace of mind.
Affordable Cadillac Service in Plano, TX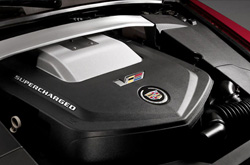 Crest Cadillac auto repair and service in Plano is just a click away! Your Cadillac deserves to be treated with the utmost care - that means factory- trained Cadillac technicians, bona fide Cadillac parts, and the reassurance that comes from a 12-month service work warranty. Cadillacs in Plano can take a pounding, so turn to the auto repair aces in Plano - Crest Cadillac. We can deal with a job as effortless as an oil change, or handle hard to do car service and repairs like strut and shock repairs, timing belt replacements and transmission rebuilds. Crest Cadillac is your surefire destination in Plano for quick, professional auto repairs and regularly scheduled maintenance. Take a look at our current service specials by clicking the link below.